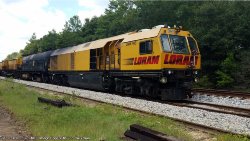 Welcome to the RRPictureArchives.NET contributor site of Rob Buckman.



I've photographed railroads since 1972 with a Kodak Instamatic ("The Instamatic Years"), and later with an Olympus OM-10, Nikon Coolpix 990, and currently a Canon Digital Rebel 350D. The OM-10 pictures were processed as 35mm slides when they were taken (mainly 1978-1998) and digitized on a Nikon SuperCoolScan 5000 ED. You can find my videos on YouTube under "rob3ri."

The Instamatic Years photos were taken primarily around Northern and Western Massachusetts, and nearby states. My first trip of any consequence was in 1974 to Altoona, PA (Horseshoe Curve). For a few years, I was producing commercial railroad videos of my journeys under the moniker, "Rob's RR Images (3RI)."

If you would like to use any of these photos for other than your personal viewing on your computer, please contact me. They are not for redistribution or republication without my written permission. Thank you.



You may browse my collection of pictures via the menu located on the left hand side of the page. I hope you enjoy the collection and thanks for stopping by!